Errors after Windows 10 Fall Creators Edition update
After the subject upgrade, I receive an error Requring Admin Permission Services to be restarted when the software starts.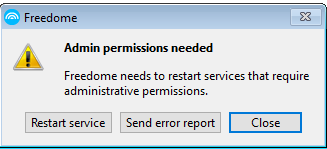 After restarting this service, then receive an error that that there is a driver error and I need to reboot.  This does not help. 
I have uninstalled and reinstalled the software.  I am running Windows 10 Home version 1709, OS Build 16299.125.  Freedome is 2.6.4914.0
Comments
This discussion has been closed.
📢F-Secure Quiz Challenge📢
Join our online quiz session on June 15th, 2023, at 11:00 AM EEST and stand a chance to win prizes.