Honest answer - F-Secure Android Yes or No !
I know this is a daft place to ask this question...........go compare cannot give me answer
I have trawled though all the marketing hype and cannot find the answer and hope that here, I can find people with similar requirements and experience.
I am a Virgin customer and over a year ago, was given little option to go F-Secure (I have subesquently renewed my licence - better the devil you know....?  more like "could not go throught the additional hassle")
The experience I have had is mixed - Banking protection & Firefox disappearing for a while etc. but the whole 'bloated' nature of the application drives me scatty (see pics below for detail)
I am willing to accept that due to my particular circumstances e.g desktop has to run XP etc. that I must accept the heartache.
However now that I have an Android 4.4 Tablet (Galaxy Tab 4) as well, that will be used for limited applications , I have a few spare F-Secure licenses available, so why not utilise iF-Secure?
I am reluctant to do so, due to this 'bloating' - throwing more PC hardware to compensate for inefficient application development (I have been in the IT industry for 30 years - so it is my pet hate), is relatively inexpensive, but the same cannot be said in the smartphone/tablet market = large expense.
The last thing that I need is for my tablet to come to a grinding halt, because I may trawl the net, possibly want to do some online banking etc. and other than vague figures, I cannot find anywhere how much resource F-Secure is going to take.
I would seriously appreciate any answers/comments.
_________________________________________________________________________________________
Current problem (and maybe I should have put as separate post to get answers)
The following pics show memory usage for a simple user - BEFORE any other applications are started.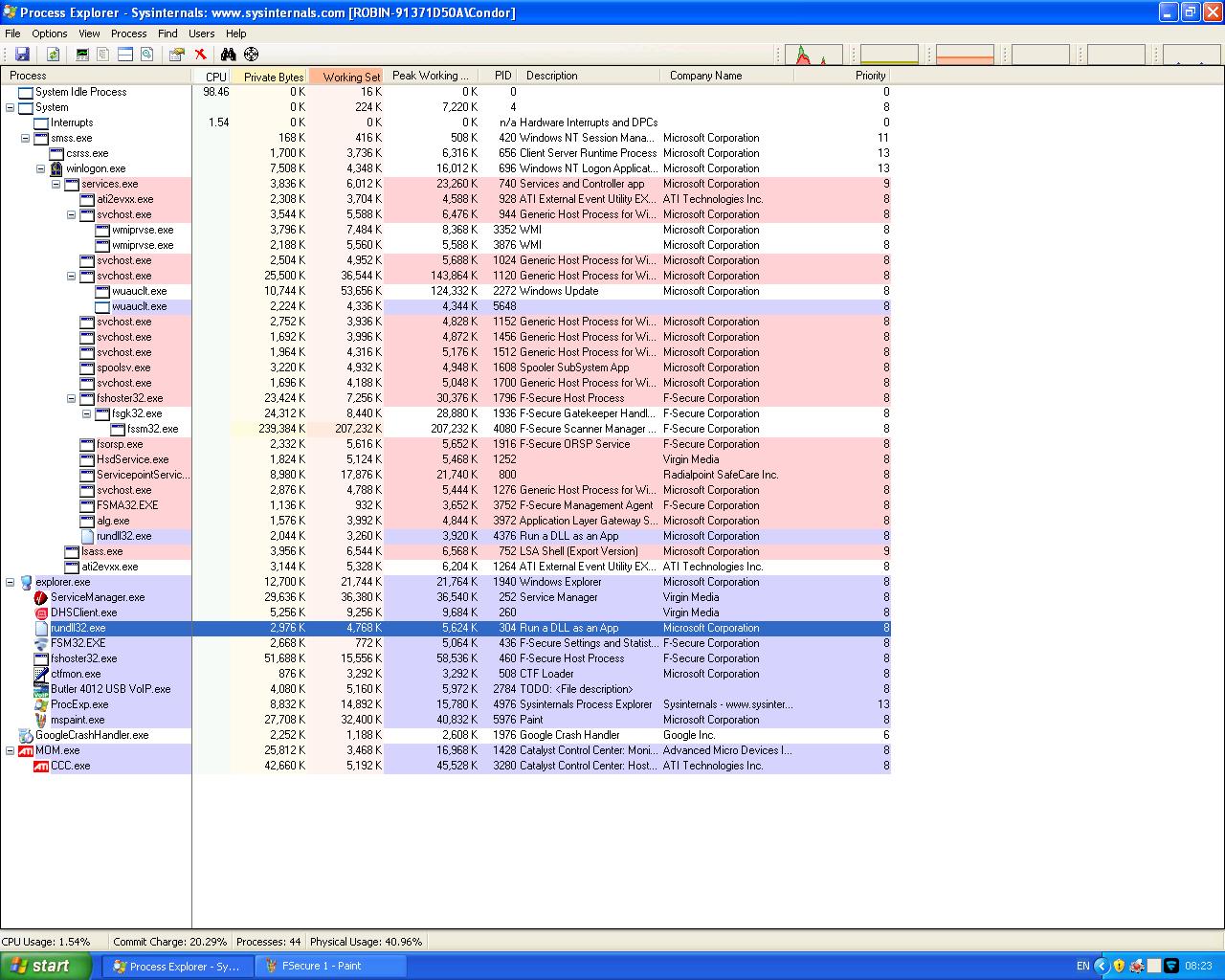 As you can see 417040k is used by Virgin & F-Secure. Nowhere can I find any documentation of what any of these do, are they all required, are some obsolete?
Sure after a while this settles down, but still, over 50% CPU usage?
So any clues as to how to make this more efficient.
XP PRO SP3
F-Secure 2.15 build 358

CCF CUIF 10.02 build 978
CCF DAAS2 1.10 build 369
CCF Guts2 2.00 build 578
CCF Upstream 2.01 build 836
CCF Diagnostics 8.01 build 757
CCF Scanning 1.51 build 111.300
CCF Network 1.02 build 141
CCF Reputation 2.0 build 1337
Comments
This discussion has been closed.