F-Secure-performance hog or light as a feather?
Apart from its price, one of the criticisms against F-Secure is that it is too heavy in performance.
IME, up to at least 2011, running the program in real-time was like trying to run in molasses. Results here with F-Secure AV 2010 revealed benchmark tests towards the middle/bottom of the vendors tested; http://antivirus.raymond.cc/
So lots of potential users have stayed away from F-Secure due to this reason without giving the newer versions a chance; a very similar scenario to Norton products. So what is reality?
A relatively recent test;
1. BenchMark Tests-April 2013-by Passmark Software; http://www.passmark.com/ftp/totalprotectionsuites-may2013.pdf
F-Secure IS 2013 was tested in 17 Benchmark categories and could only achieve 11th position out of 14 Security Suites tested.  Webroot and Norton leading the way; Windows 7, Ultimate Edition (64-bit) SP1.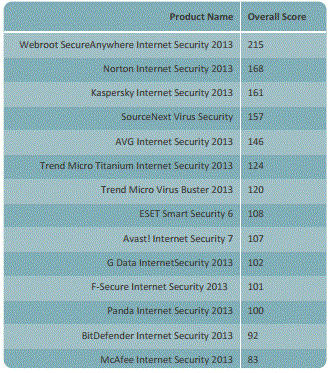 More recent performance tests have revealed a better picture; 
2. AV-Test has measured performance by how much the antivirus's resource usage slows the system down overall. F-Secure IS scored 4.5/6 on Windows 7(=8th out of 25 vendors) in July/August 2013 and 4/6 on WinXP in October 2013(10th out of 24 vendors). Again Symantec/Norton and Webroot led the way.
3. AV-comparatives has also carried out performance tests on F-Secure from 2009-2013 and overall F-Secure has scored well even in the early years; the overall trend for F-Secure here is very good and is on par with Webroot which is well known to be a low footprint program;
Overall, it is difficult to judge the  performance of F-Secure as the results are somewhat variable from the different sites; if you looked at av-comparatives you probably would judge it as a light-weight program; not so by Passmark's tests.
Comments
This discussion has been closed.